Home
Home
>
Mail
>
Mobile Mail


Opening your smart work place with the best mobile platform
pulling down the communication boundary
You can handle your work on your way, using wide and refreshing design,
intuitive menu configuration, and attractive UX
Check out Ayersrock Mail's smartness of various user functions,
individual settings

Primary platform

to make work process efficient, even while you're moving and traveling
You'll enjoy most various functions even in the small screen.
Get ready in advance with Ayersrock mobile mail, more usable than desktop.
It's all possible that limitless work-process and seamless collaboration with mobile mail solution connecting time and space.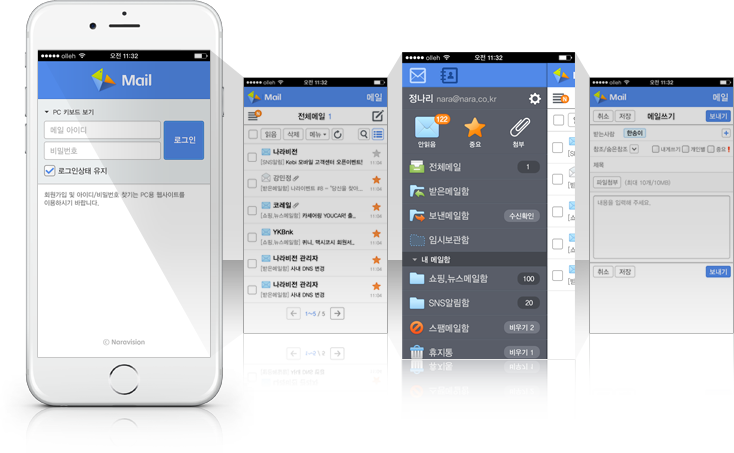 Optimized to various smart devices

Available for smart phone, tablet PC, and other smart devices. Ayersrock Mobile is well-optimized to all smart devices; create your own workplace in your hands.
Simple screen switching

Easily moving to other screen by swiping; going forward or backward. Quick and easy to manage mail message to read, move and delete.
Stable system operation

Best integrated with webmail system, it provides perfect compatibility and flexibility, and the best collaboration solution with accessible contacts, auto-completion, and integration into organization chart.

| | |
| --- | --- |
| Auto-completion | Search the name or ID from the organization chart matching even partly |
| Attachments and Drafts | Attaching to mail files from mobile devices and saving unfinished messages as drafts |
| Simple replying | Immediate replying while reading messages without switching pages |
| Page resizing | Message display Adjusted to the size of mobile screen and one-click switching |
| Sliding Menu | Side menu for all menu functions such opening, closing, and switching menu |
| Mail management | All the mail functions : priority mail, Read/unread mark, mailbox move, spam mail |
| Mail sort and mailbox | View only attachment mail or only in-company mail and manage user-specified mailboxes |
| Configuration | First page view setting, sending name change, and view options |
Auto-completion

Search the name or ID from the organization chart matching even partly

Attachments and Draft

Attaching to mail files from mobile devices and saving unfinished messages as drafts

Simple replying

Immediate replying while reading messages without switching pages

Page resizing

Message display Adjusted to the size of mobile screen and one-click switching

Sliding Menu

Side menu for all menu functions such opening, closing, and switching menu

Mail management

All the mail functions: priority mail, Read/unread mark, mailbox move, spam mail

Mail sort and mailbox

View only attachment mail or only in-company mail and manage user-specified mailboxes

Configuration

First page view setting, sending name change, and view options