Home
Home
>
Customer Center

We quickly respond to the customers' requests for using Naravision solution and service.
We're trying our best to satisfy our customers with our best service.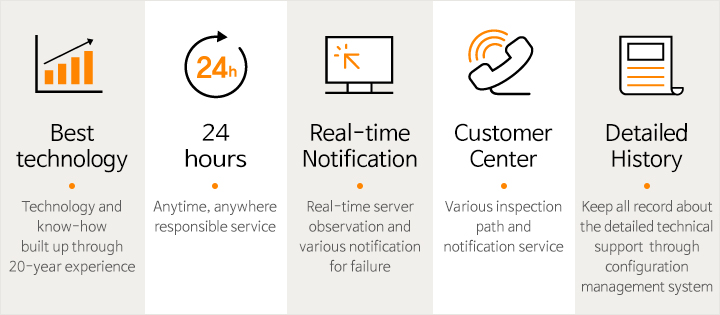 Major Features
Check product information, maintenance contract, recent reception record

- Customers can review their maintenance contract information and recent request list on 'My Page' in customer center.
Real-time notification about technical support

- Sending notifications about technical support status.
1:1 instant talk with engineer

- instant talk-messaging with assigned engineer about the cause and system status.
Real-time server monitoring and maintenance records

- Various events, real-time server monitoring, and regular maintenance records for Naravision customers
* Secured service with SSL Encryption (RS 2048 bit)
Service Process
Request for failure or asking

- Maintenance request through customer center (PC, Mobile, or Call center)
- 24-hour hot standby for emergency failure

Assigning an engineer to inspect the case

- Case inspection through configuration management system
- Assigning best engineers for the case

Complete the case

- Software patch for the failure
- Notification for each step of process
- Perfect feedback through 1:1 communication

Report and follow-up service

- Apply new API
- Report about the whole support
- Happy call for follow-up service