Leading the market

The history of webmail since 1995

The most references

Mail system know-how from experience of 1,000 system establishments

Differentiated
Service

Operating maintenance-designated customer center and happy-call center service

Various
Certificates

One and only webmail registered in Public Procurement Service and certified with administration business S/W

Renewing communication culture in team and organization.
The best platform leading the change in communications.
The most convenient workplace for my own
with various settings and display configuration
Providing most acceptable solution suitable
for requirements with various extensions and customizing

Leading the human-centered communication culture
with organization-based interface and functions

.

We assume that the important thing is not the action itself to send mail and messages but how and to whom to send.
In Ayersrock mail, you can choose the recipient from the organization chart and send mail very easily and naturally.
Everything in Ayersrock mail is human-centered to achieve the best teamwork.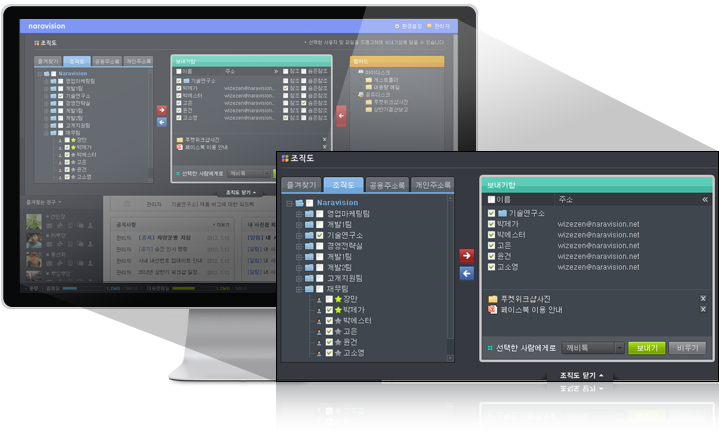 The easy accessibility

Everyone in your company, from the president to the newbie, will be satisfied with the wide and simple design and deal with their work quickly and accurately. The best feature is that you can switch the pages easily.
Double-locking security

No one can access my account with my permission.
because they need OPT or GPKI authentication sent to my phone. Overseas login settings and IP log view functions protects my account more securely.
Trendy new functions

We don't stop research to satisfy customers needs and provide user-friendly UI and processes. We're presenting small but detailed functions of usability and achievement.
Enhanced expandability

It's very flexible to co-operate with other systems or company's legacies due to our Java-based system structure design. We're providing very convenient and stable system based on our rich experience of SSO solution and network separation. To apply to customers' circumstance and their needs, our system can be extended with other optimized solutions; such as secure mail, approved mail, and mail archive system.

| | |
| --- | --- |
| 2-step verification login | More secure with 2-step verification by OPT or GPKI |
| Country settings for my login | Allowed countries setting by admin or by individual |
| IP trace and management | IP trace for login, mail sending, external access; Spam mail management |
| Security Policies | Regular password change, individual login-allowed countries |
| Auto-complete and recent sent | simple and accurate process based on organization chart |
| Mail view mode | Multi-view panes, preview, mail received specified dates |
| Secure mail box and Shared mail box | Secure mail with code number and sharing mail with permitted members |
| Priority mail and Tag | to provide multiple mail sorting options and to manage mail data efficiently |
| Outlook integration | Converting outlook contacts into webmail contacts, uploading mailboxes, and saving mail data as ELM files |
2-step verification login

More secure with 2-step verification by OPT or GPKI

Country settings for my login

Allowed countries setting by admin or by individual

IP trace and management

IP trace for login, mail sending, external access; Spam mail management

Security Policies

Regular password change, individual login-allowed countries

Auto-complete and recent sent

simple and accurate process based on organization chart

Mail view mode

Multi-view panes, preview, mail received specified dates

Secure mail box and Shared mail box

Secure mail with code number and sharing mail with permitted members

Priority mail and Tag

to provide multiple mail sorting options and to manage mail data efficiently

Outlook integration

Converting outlook contacts into webmail contacts, uploading mailboxes, and saving mail data as ELM files